Time
| | |
| --- | --- |
| Doors | 6:30pm |
| Showtime | 7:00pm |
Location
1701 N. Market St. Ste. 110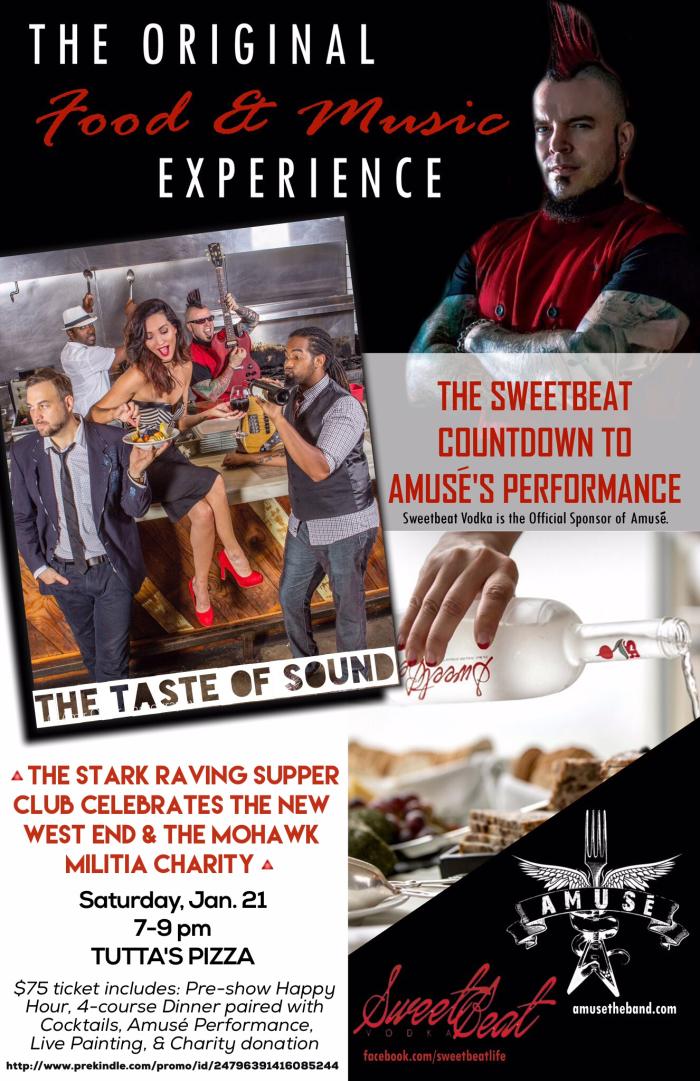 Join us on Saturday, January 21st for a charitable evening of entertainment to your senses!! As we give you a 'Taste of Sound', we will celebrate The Mohawk Militia Charity that provides non-GMO food & recipies to underpriveledged familes. The festivities will take place at Tutta's Pizza in the new, improved West End area of Dallas with a specialty 4-course menu crafted just for this event by Celebrity Chef Patrick Stark & Tutta's Owner Jeremy Scott! Big thanks to the special companies sponsoring this event: SweetBeat Vodka, Cadillac, SALT Tequila, Askari OH LLC, PCV VRM Seeds Of Hope, Sysco Corporation, Community Beer Company, Melinda's Original Habanero Pepper Sauce, Crest Cadillac, & Chefs' Produce Company. The details to your all-inclusive evening are as follows...

$75 TICKET INCLUDES:
Pre-show Happy Hour with speciality drinks from our sponsors, 4-course dinner paired with coctails or wine (see delicious menu below), an interactive performance by Amusé band, a live painting by featured artist Karen Foster (see bio below menu), and a charity donation to the Mohawk Militia.

Tickets are going fast so purchase yours now on the Pre-Kindle site link above!!

**MENU**

COURSE 1: Melinda's Fire Roasted Chicken Wing & Melinda's Mango-Jicama Slaw
COURSE 2: Blood Orange Rocket Salad ~ Arugula, Toasted Almonds, Dates, Parmigiano Regiano, Almond Oil, Fleu de Sel, Fresh Ground Pepper
COURSE 3: Tuttas Surf N' Turf Pie ~ Butter Poached Lobster, Petite Filet, Goat Cheese, Rosemary, Truffle-Honey, Fried Leeks, Lemon Beurre Blanc
COURSE 4: Brandy Bread Pudding & Chantilly Whip Cream

ARTIST/PAINTER BIO (Karen Foster);
Karen has been a scenic artist for film, tv, and theater for over 15 years. She's worked on films/set designs such as Sin City, Idiocracy, Fast Food Nation, and television shows such as Friday Night Lights & Prison Break. Karen has painted for renown clients such as the Perot Museum and the Chanel Métiers d'Art Show for Karl Lagerfeld.
21 & up