Time
| | |
| --- | --- |
| Doors | Noon |
| Showtime | 11:00am |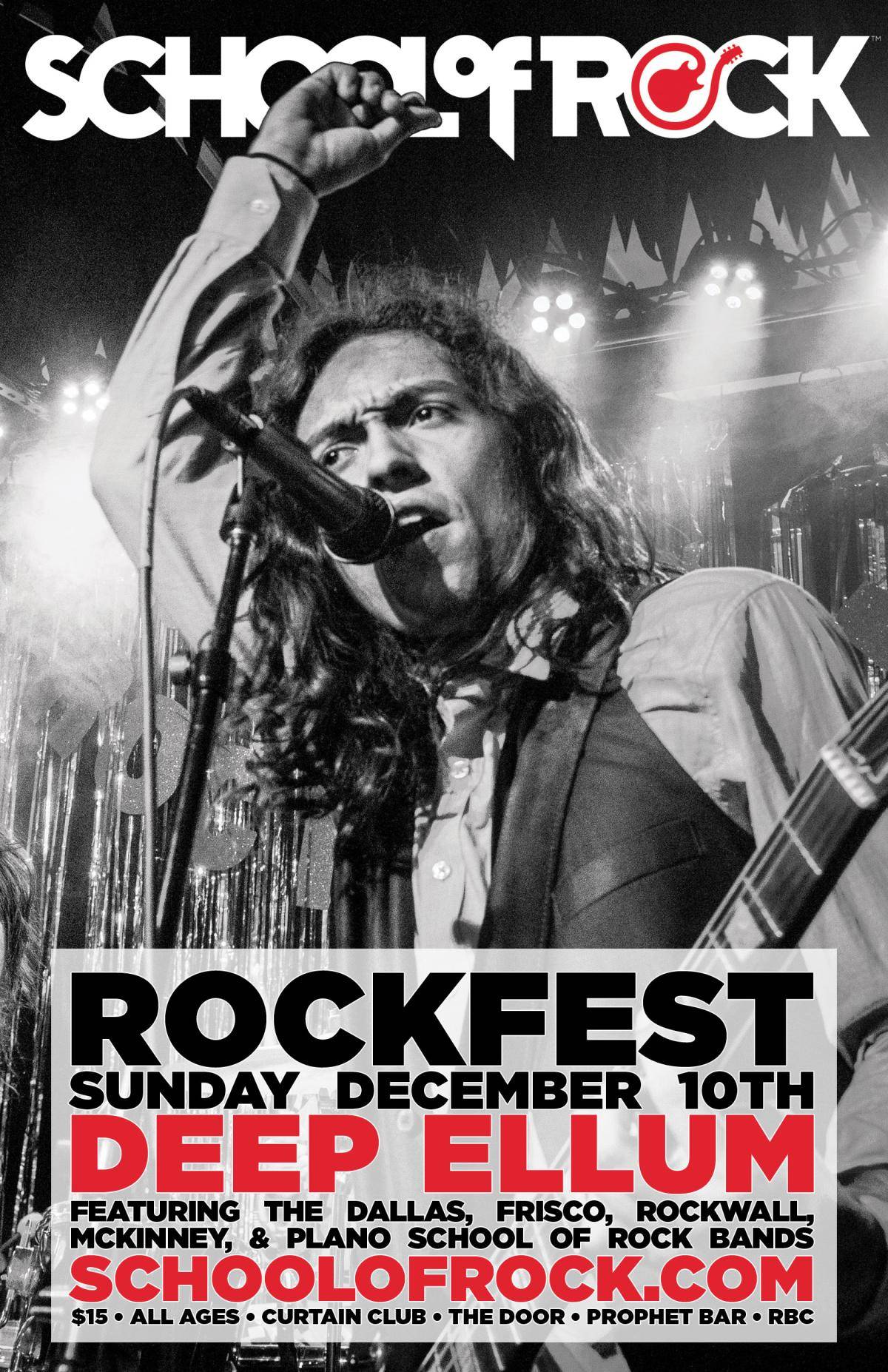 RAIN OR SHINE, IT'S ROCKFEST TIME
What is Rockfest, you may ask? Rockfest is one of our biggest regional events of the year, an all-day music festival that will be held (for the first time) in Downtown Dallas' historic Deep Ellum District. This year, Rockfest will be held on SUNDAY, December 10th from 11 a.m. - 8:30 p.m., rain or shine.
ALL BANDS PERFORM:
All Rock 101 and Performance Program bands will perform two shows, and House Bands, Band Coaching, and Adult Bands will perform one show.
TICKETS:
Tickets are sold online for $15 until midnight through Prekindle, or at the door on Sunday. Performing students do not need a ticket for this event. Once a ticket is purchased, you will have access all day to all 3 stages.
SOCIAL MEDIA:
Please use the hashtags

#Rockfest2017

and

#SchoolOfRock

so we can all see your best photos and videos from the shows.
WHAT TO WEAR:
Performing students should dress like a rocker. Does Metallica look like they're going to the beach when they play concerts?
No: Flip-flops, Crocs, shorts, sports jerseys, short skirts or short dresses
Yes: Jeans, Converse, black clothes, band shirts, DEVO hats
SCHEDULE:
We are scheduling 5 schools, with roughly 76 performance slots and upwards of 600 students, so changes are subject to be made, and positive attitudes are a must. We encourage everyone to stay all day and be a part of our incredible DFW School of Rock community, as well as watch and learn from as many other bands as possible. It truly is one of the best ways to learn, after all. In the event that you cannot stay, please arrive no later than one hour before you scheduled performance.
All Ages