Location
LUCK at Trinity Groves
(map)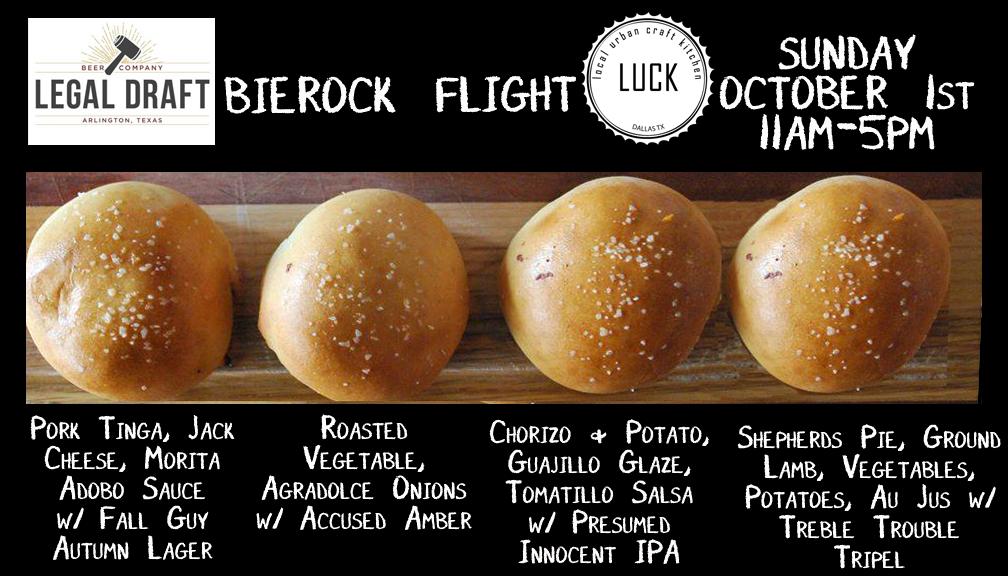 Join us for another round of our previously sold out Bierock & Beer Pairing Flight, this time with our friends from
Legal Draft Beer Co.
!
- Pork Tinga, Monterrey Jack Cheese, House-made Morita Adobo Sauce w/ Fall Guy Autumn Lager
- Roasted Vegetable, Cheese, Agradolce Onions w/ Accused Amber
- Chorizo & Potato, Served Pambazo Style, Guajillo Glaze, Tomatillo Salsa w/ Presumed Innocent IPA
- Shepherds Pie, Ground Lamb, Vegetables, Potatoes, Au Jus w/ Treble Trouble Belgian Tripel
Supplies are still rather limited so there will only be 25 orders, per seating time.
Please plan on arriving on-time for your seating, as not to inconvenience anyone with a ticket to a later seating.
Note: A ticket purchase does not reserve you an immediate seat, just bierocks and beers, but we will do our best to get you seated as quickly as possible as the restaurant will still be open to the public.
All Ages