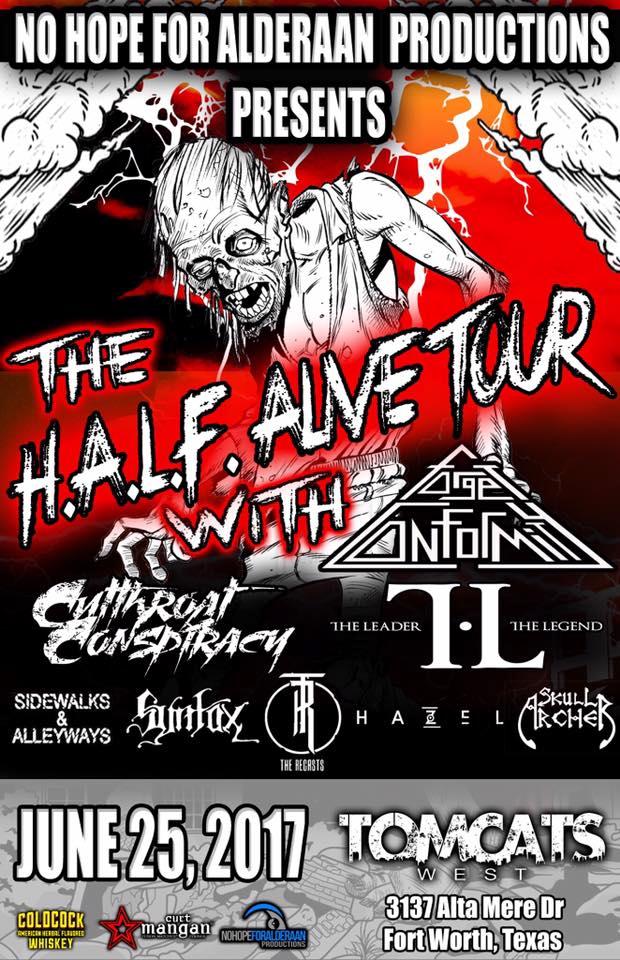 This will be the home date for the tour package consisting of two of our artist. Forget Conformity and Cutthroat Conspiracy playing support on this tour is The Leader The Legend. All three bands are based out of Ft.Worth. The Recast from San Antonio and Syntax from Waco will be joining this line up. Local support will be covered by Hazel, Skull Archer, Sidewalks and Alleyways. Show will be held at what Forget Conformity calls their home venue TomCats West.
Forget Conformity (www.facebook.com/ForgetConformity)
The Leader The Legend (www.facebook.com/TheLeaderTheLegend)
Cutthroat Conspiracy (https://www.facebook.com/CtCTx)
The Recasts (www.facebook.com/therecastsband)
Syntax (www.facebook.com/syntax.tx)
Hazel (www.facebook.com/pg/TheBandHazel)
Skull Archer (www.facebook.com/SkullArcherGPThrash)
Sidewalks and Alleyways (www.facebook.com/sidewalksandalleyways)
Tickets on Sale now, or contact bands.
All Ages