Time
| | |
| --- | --- |
| Doors | 7:00pm |
| Showtime | 8:00pm |
| Kitchen | 6:00pm |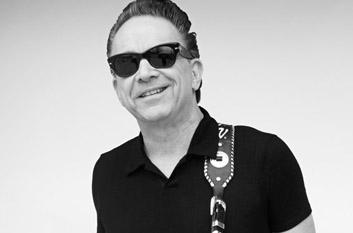 Jimmie Vaughan is far more than just one of the greatest and most respected guitarists in the world of popular music. As Guitar Player magazine notes, "He is a virtual deity--a living legend." After all, Vaughan provides a vital link between contemporary music and its proud heritage, as well as being a longtime avatar of retro cool. Since releasing his first solo album in 1994, he has set the standard for quality modern roots music. Throughout his career, Vaughan has earned the esteem of his legendary guitar-playing heroes and superstar peers along with successive generations of young players. His musical ethos and personal style have had an impact on contemporary culture, from spearheading the current blues revival with The Fabulous Thunderbirds to his longtime, innate fashion sense of slicked-back hair and sharp vintage threads (now seen throughout the pages of contemporary fashion journals) to becoming a premier designer of classic custom cars. But for Jimmie Vaughan, none of it is part of a crusade or a career plan. It's just his natural way of living his life and pursuing the interests that have captivated Vaughan since his youth. Do You Get The Blues? travels through a virtual galaxy of musical moods and modes across its 11 vibrant selections.
Vaughan's musical abilities and sense of style were obvious from an early age. Growing up in Oak Cliff, just south of downtown Dallas, TX., he was weaned on classic Top 40 radio (which was invented in his hometown), vintage blues, early rock'n'roll and the deepest rhythm and blues and coolest jazz of the day, thanks to the sounds he heard on Dallas' AM radio powerhouse KNOX and border radio stations like XERB, where personalities like the legendary Wolfman Jack sparked a youth revolution. "I never got over that stuff, and I never will. That's the kind of music I like," he explains.
When he was sidelined by a football injury at the age of 13, a family friend gave Vaughan a guitar to occupy him during his recuperation. From the moment Jimmie's fingers touched the fret board, it was obvious that he was a natural talent. "It was like he played it all his life," his mother Martha Vaughan later noted. He also began tutoring his younger brother Stevie, who would cite Jimmie as his biggest inspiration and influence throughout his own career.
At age 15, Vaughan started his first band, The Swinging Pendulums, and was soon playing the rough and tumble Dallas nightclub scene many nights a week. By the time he hit 16, Jimmie joined The Chessman, who became the area's top musical attraction, eventually opening concerts in Dallas for Jimi Hendrix. After hearing Muddy Waters and Freddie King play in Dallas, Vaughan began to delve deep into the blues, melding his many influences into a style that was clean, economical and highly articulate, concentrating on rhythmic accents and lead work that relies on the power of his less is more approach.
In 1969, Vaughan helped found Texas Storm, a group that eschewed Top 40 covers for blues and soul with a Texas accent. The band eventually migrated to Austin, where they won over the college crowd and the Black and Chicano communities on the Capital City's East Side. Vaughan also helped jump start his brother Stevie's career when the younger Vaughan joined Texas Storm on bass.
Determined to create an ideal vehicle for blues music that was both modern in its impact and appeal yet true to the tradition, Vaughan founded The Fabulous Thunderbirds with Kim Wilson in the mid 1970s. When Antone's nightclub opened in Austin in August of 1975, the Thunderbirds became the house band, sharing the stage and jamming with such blues greats as Waters, Buddy Guy, B.B. King, Albert King and a host of others, all of whom recognized Vaughan as the man who would keep the music they developed alive for future generations.
Vaughan recorded eight albums with The Fabulous Thunderbirds: Girls Go Wild on Tacoma/Chrysalis; What's The Word, Butt Rockin' and T-Bird Rhythm on Chrysalis; and Tuff Enuff (certified platinum), Hot Number, Powerful Stuff and Wrap It Up on Epic. On the strength of such hits as "Tuff Enuff," two Grammy Awards and years of worldwide touring, The Fabulous Thunderbirds brought the blues back into the pop charts and the contemporary musical lexicon, sparking a blues revival that continues unabated today. Prior to leaving the group in 1990, Jimmie had joined up with his brother Stevie to record Family Style, an album that reflected their mutually deep musical roots and maturing modern artistic sophistication.
Then in August 1990, just a few weeks prior to the album's release, Stevie Ray Vaughan died in a helicopter crash in Wisconsin. The tragedy devastated Jimmie, who retreated from touring and recording, though he continued to play guitar every day, as he has throughout his life. Meanwhile, the success of Family Style further enhanced Jimmie's reputation as a distinctive musical stylist.
Eventually, Vaughan's friend Eric Clapton invited him to open a series of 16 special concerts at London's Royal Albert Hall. After the warm reception for his solo debut at the Clapton shows in early 1993, Jimmie started recording his first solo album.
The resulting disc, Strange Pleasures, was produced by Nile Rodgers (who worked with the Vaughan brothers on Family Style), featured 11 songs written or co-written by Jimmie, and was dedicated to Stevie Ray and the recently deceased Albert Collins. It debuted at Number One on the Billboard Heatseeker Chart, won a Grammy for Best Rock Instrumental Performance and garnered reams of critical acclaim as Vaughan also stepped out on tour as a solo artist and bandleader. His next album, 1998's Out There, solidified Vaughan's status as a solo artist, thanks to a Grammy nomination for Best Rock Instrumental Performance (for the song "Ironic Twist"). As The Boston Phoenix noted in a four-star rave review, Out There featured "his best playing ever, bringing rich-toned exuberance to the familiar trappings of rippling blues and shuffle beats, soul grooves, and vocal arrangements that tap the celestial richness of the glory days of doo-wop."
As Jimmie Vaughan emerged as an artist in his own right, his reputation as a master musician became even more apparent, thanks to the admiration of blues legends like B.B. King and Buddy Guy, such guitar superstars as Eric Clapton and Z.Z. Top's Billy Gibbons, and rising talents like Jonny Lang and Kenny Wayne Shepherd. As Clapton notes, "The first time I heard Jimmie Vaughan, I was impressed with the raw power of his sound. His style is unique, and if I've learned anything from him, it's to keep it simple."
Jimmie Vaughan is more modest in assessing his abilities, though very clear when it comes to his approach. "I try to speak with my guitar in sentences," he explains. "The people that I enjoy and the music that I enjoy are not about just a bunch of licks strung together. If you just play a bunch of guitar licks that aren't connected, it's like throwing a lot of words into a bowl. It doesn't make any sense. It's just words.
Jimmie Vaughan's style as a player, songwriter and bandleader can be thought of as an amalgamation of so many influences. Known for his deceptively simple yet complex attack, his clean, uncluttered style capitalizes on conveying the emotion and message within the music, He utilizes raw emotion, simplicity, and an elegance that is powerful and accessible, yet communicates exactly what he feels inside. It's an approach that has earned him the respect of many of the greats of contemporary music, and guest appearances on such albums as B.B. King and Eric Clapton's Riding With The King, Bob Dylan's Under The Red Sky, Willie Nelson's Milk Cow Blues, Carlos Santana's Havana Moon and Don Henley's Inside Job.
And in the same fashion that Vaughan revitalizes the classic blues and soul that informs his music, he has also become one of the foremost designers of classic custom cars. "I don't play golf. So cars are my hobby," he says with a chuckle. "I was into cars as soon as I was old enough to walk. I built lots of models when I was a teenager. It's not like transportation. It's art you can drive to the store." His first custom restored hot rod is a 1951 Chevy Fleetline that's become a well-known sight on the streets of Austin, TX over the years. He then augmented his collection with a 1963 Buick Riviera, and a 1961 Cadillac Coupe DeVille that took First Place at the 1999 Sacramento Autorama and Second Place at the 50th Annual Grand National Roadster show, and is currently on display at the Peterson Car Museum in Los Angeles. Vaughan is credited by his pal Eric Clapton with inspiring him to begin collecting and restoring classic roadsters as well.
Yet for all his accomplishments and the admiration he has earned, Jimmie Vaughan remains modest when it comes to his life and work. "I'm just trying to have fun like everyone else," he concludes. "I've been playing since I was 13. I play every day. I've never stopped. I can't imagine that I could exist without it."
Devon Gilfillian fires twin barrels of gospel-blues and southern soul on his debut self titled EP. Fueled by groove, guitar, and the powerful punch of Gilfillian's voice, the songs shine a light on a young songwriter, absorbing everything from the R&B swagger of Al Green and Ray Charles to the rock & roll heroics of Jimi Hendrix.
All Ages