Location
Farm to Table Dinner
(map)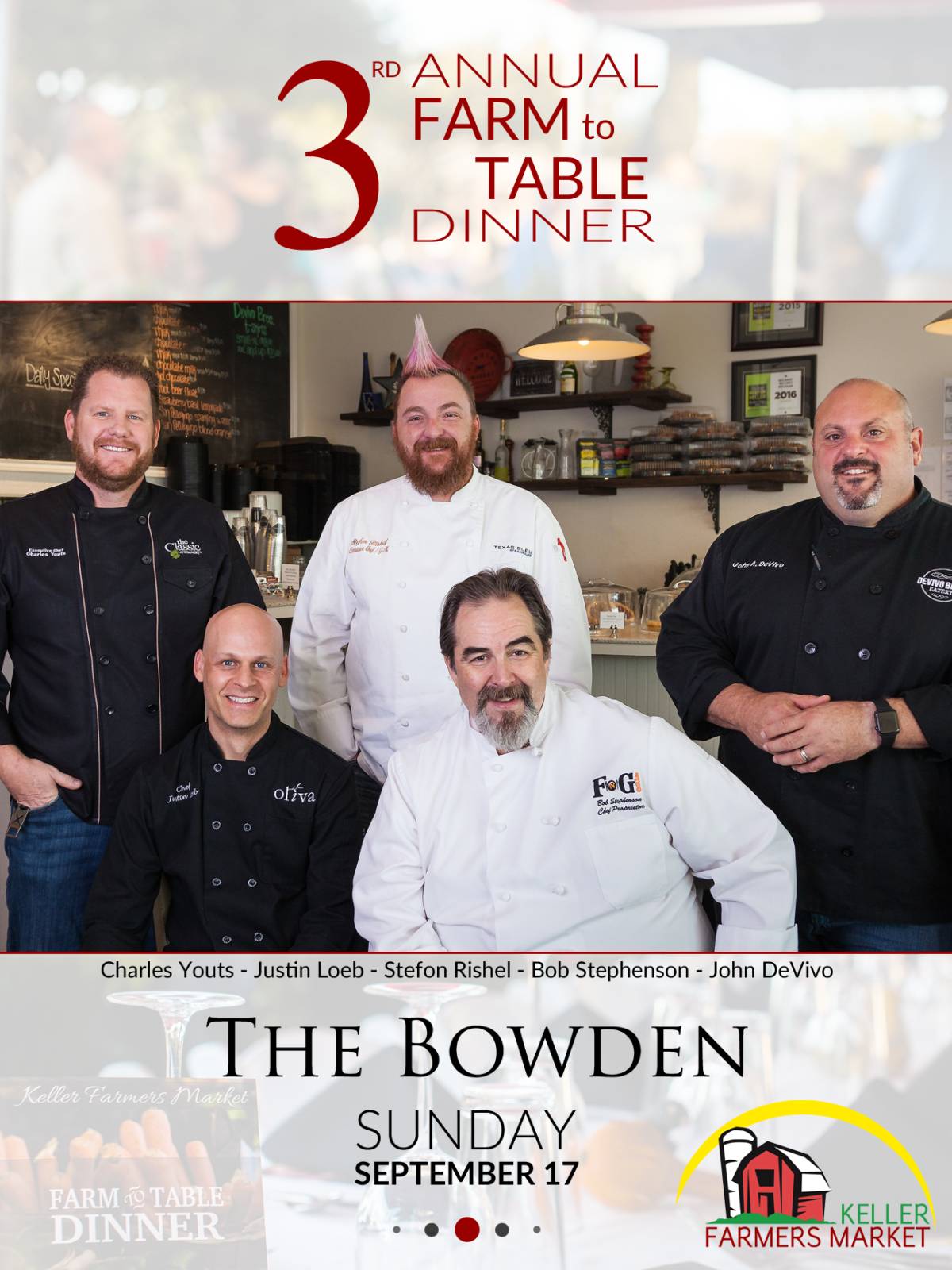 Keller Farmers Market (http://www.KellerFarmersMarket.com), a not-for-profit organization, invites the community to participate in the organization's third annual "Farm to Table" fundraiser. The event will be held at The Bowden Event Center, 1745 Keller Parkway, Keller, TX, Sunday, September 17, 2017 from 6:00 p.m. to 9:00 p.m.
Please join us for a night of outstanding culinary experiences spotlighting locally grown food from the farmers and producers of KFM.
The event will begin at 6:00 p.m. with appetizers and mingling followed by a 7:00 p.m. dinner prepared by our local chefs: Charles Youts, The Classic; Stefon Rishel, Texas Bleu Steakhouse; Bob Stephenson, FnG Eats; John DeVivo, DeVivo Bros. Eatery; and Justin Loeb, Oliva Italian Eatery.
The goal of KFM's Farm to Table Dinner is to celebrate all who contribute to a local food system, thank our farmers and producers, raise awareness of the value of meals based on farm direct markets, and support local food access to all.
Tickets are $100.00 each. KFM is a 501(c)(3) organization making your purchases 100% tax deductible. The Keller Farmers Market is located at 1101 Bear Creek Parkway, in the circle fountain, in front of Keller Town Hall.
Ticket sale proceeds will support the Supplemental Nutrition Assistance Program (SNAP/Lonestar Card) at the market, along with additional promotion, equipment and programs of the Keller Farmers Market.
Last years event sold out really quick. Be sure to purchase your tickets early so you won't miss out on this wonderful event.
The Keller Farmers Market is a casual, open air, seasonal market at Keller Town Hall that offers fresh Texas produce, meats, tamales, baked goods, artisan bread, cheese, salsa, pasta, pickles, jellies and jams, honey, baked goods, prepared foods, pet products and crafts, all from the state of Texas or within 150 miles.We are located on Bear Creek Parkway in front of Keller Town Hall. KFM is a convenient and safe place for the whole family. After your market visit, enjoy the relaxing walking trails and large parks surrounding the area. Every Saturday from May to late October, the market offers something different – whether it's the freshest produce, live music, chef demonstrations, or health and wellness presentations – making it is as much a center of commerce as it is for the community to reconnect. Our market is open rain or shine, but may close without prior notice during extreme weather conditions in order to maintain the safety of shoppers and vendors.It's a great place to bring the kids, throw a Frisbee, and pick up great local food products. Come experience the market. Learn from the farmers and wellness providers. Talk with local artisans. Make your own statement in support of local food!
All Ages