Location
Video Association of Dallas
(map)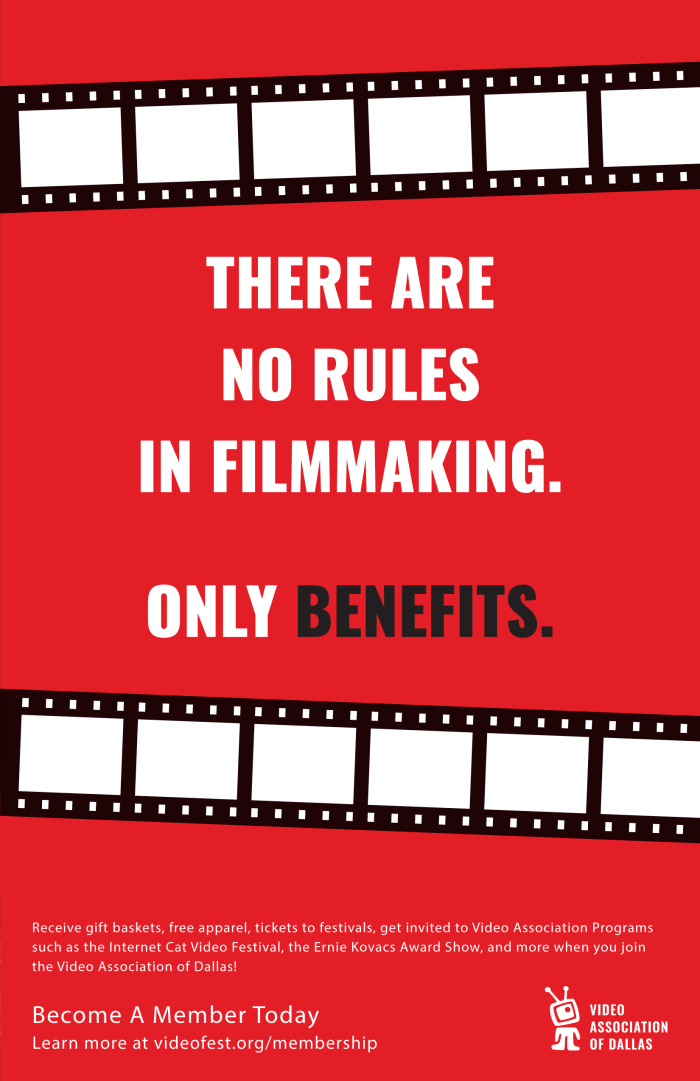 This year celebrates 30 fantastic years of showcasing great films, filmmakers, providing education, creating an environment that highlights the love of film, and showing Dallas' interest and support of independent film, video, and media. We always appreciate our supporters as they also share our vision for Dallas and enable us to continue to grow, create, and make each year of the VideoFest an exhilarating experience. This year is going to be our best year yet! We have many great surprises planned, some spectacular film selections, and installations like you have never seen. October cannot arrive faster!
As a 501(c)(3) nonprofit, The Video Association of Dallas heavily relies on contributions from individuals and sponsors to support our mission and continue developing our programs.
Support us by becoming a member today! You will receive exclusive benefits including newsletter updates of the latest upcoming activities and events, invitations to annual screenings and events year round, passes to the VideoFest 30, and more!
It's more than a festival; it's a community.
The Video Association of Dallas does great work year round and needs your support. When you become a member, you'll help promote an understanding of video as a creative visual art medium and cultural force in our society; while supporting works of Texas artists working in video and the electronic arts.
Our members form a dynamic community that shares, promotes, and explores many creative possibilities of the video medium. Become a member today to enjoy insider access all year long as well access and discounts to our other events!
Levels & Benefits
Individual
$50
Bart Chat Newsletter – insider updates and exclusive announcements
One complementary weekend pass to VideoFest 29 (includes lounge access)
Raffle to win a limited edition poster
Supporter
$100
Two complimentary weekend passes to VideoFest 29 (includes lounge access)
Two complimentary tickets to VideoFest 29 opening night
Discounts on Video Association programs throughout the year
Director
$250
Two complimentary passes to VideoFest 29 (entire event – includes lounge access)
Dallas VideoFest Gift Bag with Dallas VideoFest 29 t-shirt
Two tickets to all Video Association Programs throughout the year (Ernie Kovacs Award, Cat Video Festival, etc.)
Star
$500
Two complimentary passes to VideoFest 29 (entire event – includes lounge access)
Dallas VideoFest Gift Bag with Dallas VideoFest 29 t-shirt
VIP invitations to receptions and parties
Complimentary access to all Dallas Video Association ticketed events
All Ages