Location
LUCK at Trinity Groves
(map)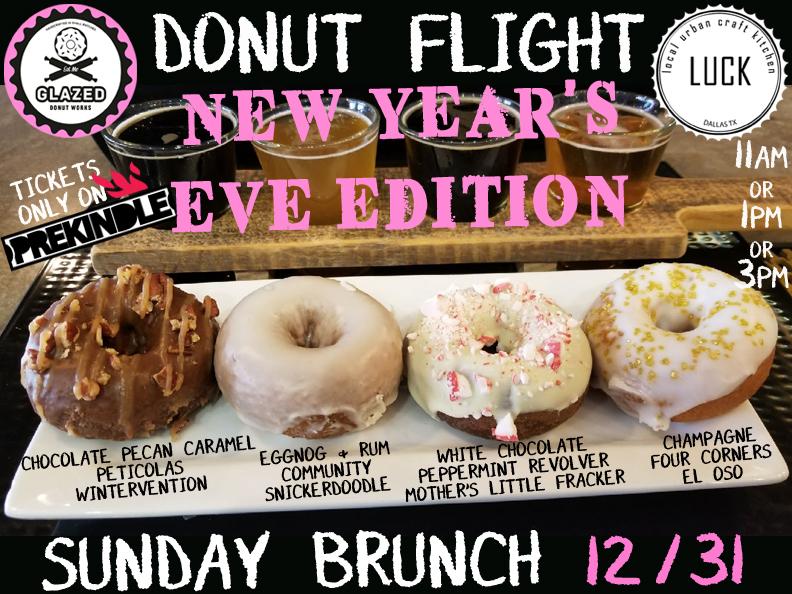 This edition is very special to us and pays homage to the four breweries that participated in our very first New Year's Eve beer dinner 4 years ago.
You'll get to try the following four pairings and then ring in the New Year with us early with an additional glass of champagne!
- Chocolate Pecan Caramel w/
Peticolas Brewing Company
Wintervention Strong Spiced Winter Ale
- Eggnog & Rum w/
Community Beer Company
Snickerdoodle Spiced English Ale
- White Chocolate Peppermint w/
REVOLVER BREWING
Mother's Little Fracker American Stout
- Champagne w/
Four Corners Brewing Co.
El Oso White IPA
Supplies are still rather limited so there will only be 100 orders, per seating time.
Please plan on arriving on-time for your seating, as not to inconvenience anyone with a ticket to a later seating.
Note: A ticket purchase does not reserve you an immediate seat, just donuts and beers, but we will do our best to get you seated as quickly as possible as the restaurant will still be open to the public.
LUCK & Glazed Donut Works
All Ages