Date
Saturday January 27, 2018
Time
| | |
| --- | --- |
| Doors | 10:00am |
| Showtime | 10:15am |
Location
Meteor Guitar Gallery
(map)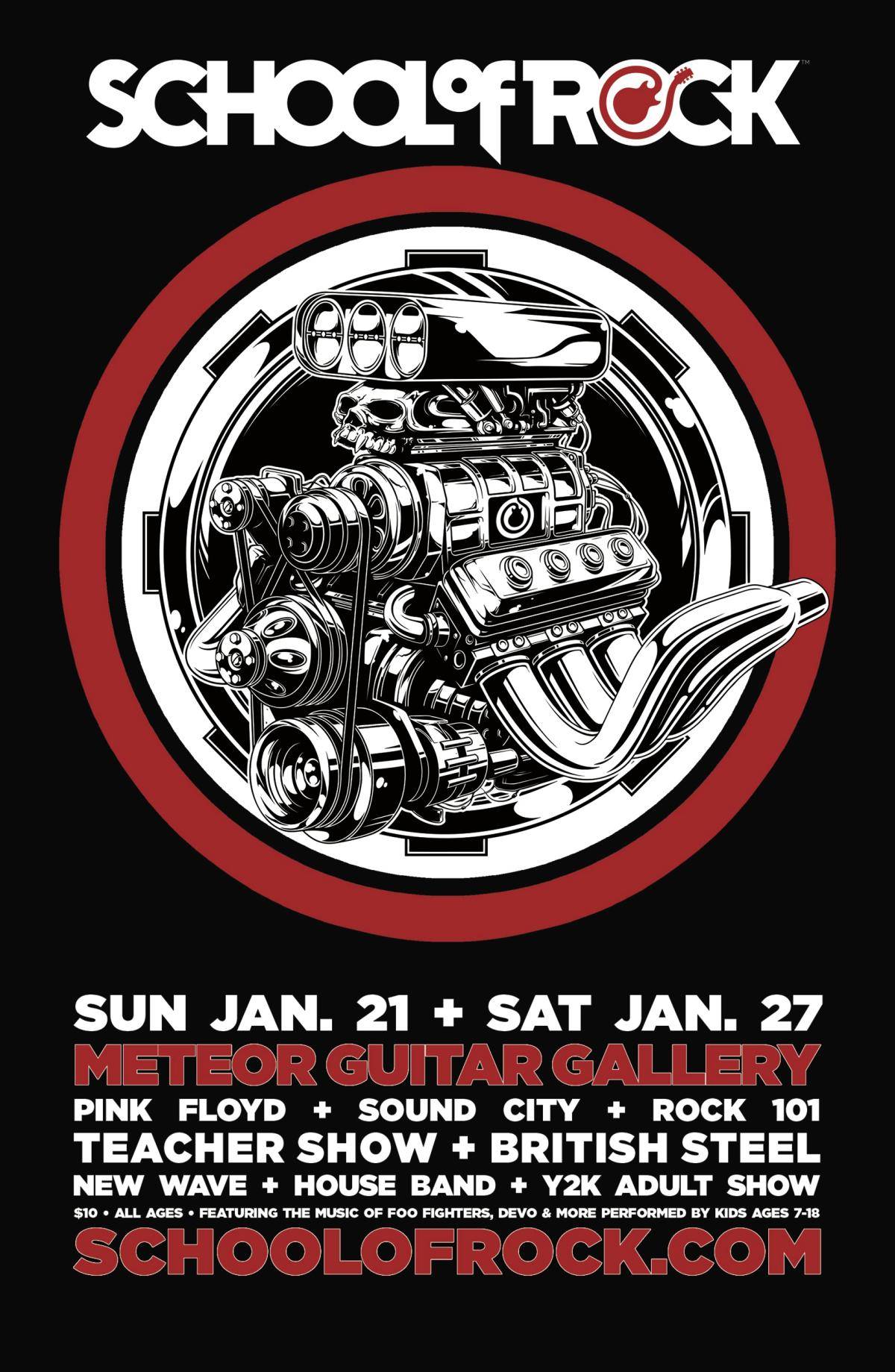 Come rock out with us at our January 2018 End of Season Shows-Sunday, January 21st and Saturday, January 27th at Meteor Guitar Gallery in downtown Bentonville!

Doors @ 10AM!
Tickets for the show are $10 PER DAY, and are available at the door (cash/check only please!)
Kids UNDER 8 are FREE!
Feel free to bring food/drinks into the venue!

For more information, feel free to contact us at 479.936.8838 or check out www.schoolofrock.com!
SHOW #1 - SUNDAY, JANUARY 21ST
METEOR GUITAR GALLERY, 128 W CENTRAL AVE BENTONVILLE
STAGE CALLS
SATURDAY ROCK 101, 10AM
PINK FLOYD, 10:30AM
WEDNESDAY ROCK 101, 12:10PM
SOUND CITY, 12:30PM
MONDAY ROCK 101, 2:10PM
BRITISH STEEL, 2:30PM
TUESDAY ROCK 101, 4:10PM
ADULT Y2K, 4:30PM
THURSDAY ROCK 101, 6:10PM
NEW WAVE, 6:30PM
SHOW #2 - SATURDAY, JANUARY 27TH
METEOR GUITAR GALLERY, 128 W CENTRAL AVE BENTONVILLE
STAGE CALLS
TUESDAY ROCK 101, 10AM
BRITISH STEEL, 10:30AM
THURSDAY ROCK 101, 12:10PM
NEW WAVE, 12:30PM
SATURDAY ROCK 101, 2:10PM
HOUSE BAND, 2:30PM
TEACHER BAND, 3:20PM
WEDNESDAY ROCK 101, 4:10PM
PINK FLOYD, 4:30PM
MONDAY ROCK 101, 6:10PM
SOUND CITY, 6:30PM
All Ages