Time
| | |
| --- | --- |
| Doors | 7:00pm |
| Showtime | 8:00pm |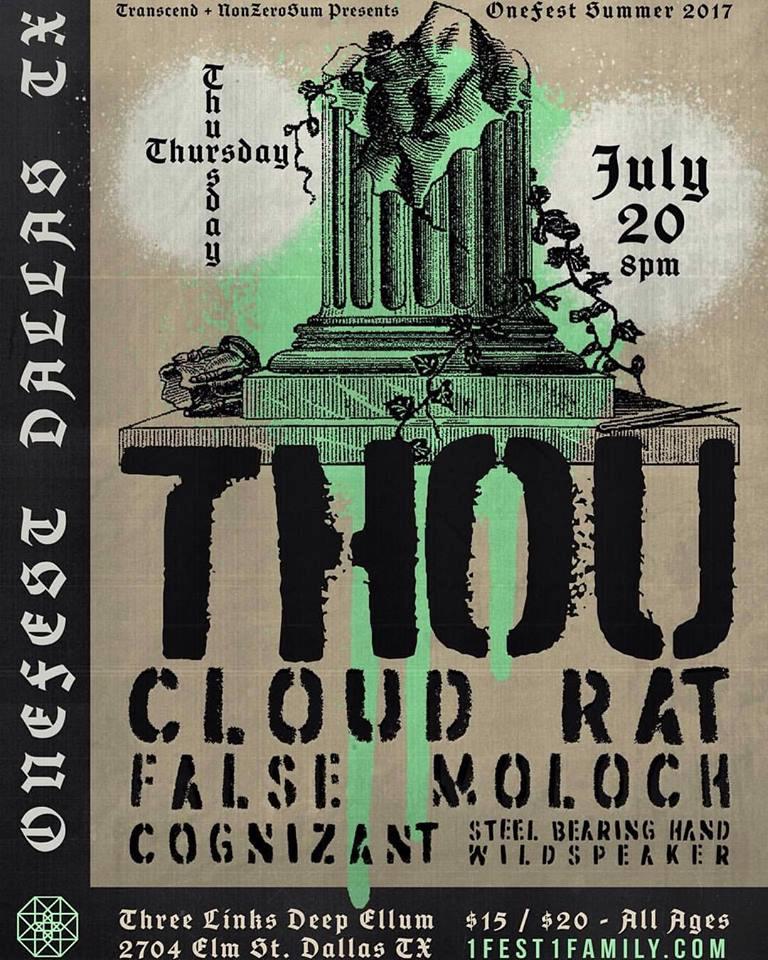 Transcend and Nonzerosum Present
The band was formed by guitarists Andy Gibbs and Matthew Thudium, bassist Mitch Wells, and drummer Terry Gulino. Thou released their first full-length effort, Tyrant, in 2007 after the arrival of the vocalist Bryan Funck.[1] These were followed by their second studio album Peasant in 2008 and a string of EPs, including Malfeasance Retribution EP(2008), The Retaliation of the Immutable Force of Nature (2008), Through the Empires of the Eternal Void (2009) and Baton Rouge/You Have Much to Answer For (2010). Their third full-length album, Summit was released in 2010.
The band's fourth studio album, Heathen, released in 2014, was met with critical acclaim. This album marked the first time in the band's career that the band had featured cleanly sung vocals from collaborator Emily McWilliams. The album was named the best metal album of 2014 by music website Pitchfork. Thou has toured with and collaborated frequently with fellow sludge metal band The Body, whom they most recently collaborated with on the album entitled, You, Whom I Have Always Hated.
https://thou.bandcamp.com/
Hi. We are a grindcore punk trio from Michigan called Cloud Rat. We formed in December 2009 in Mount Pleasant, MI. So far, we have extensively toured the USA, Canada, and Europe multiple times. We have released three full length LPs, three split LPs, three split 7"s, a split cassette tape, a 2010-2015 complete discography 2xCD, as well as having appeared on multiple compilations of various formats. We strongly believe in a vegan/vegetarian lifestyle, animal/human/earth liberation, DIY/DIT, anti-capitalist ideologies, and living respectfully and compassionately.
Musically, we are influenced by all sorts of stuff. Pretty much any kind of music you can think of has found its way into our sound, through a blender set to "grind." Heh.
We've been through a lot of challenging stuff together, and it seems like this band is always on some sort of fucked up collision course with disaster. We've made it this long though, why stop? So many people have helped us along the way that this band can't necessarily be called our own anymore. Thank you to everyone who has shared in this project with us.
In the future, we plan to tour through Mexico, Asia, Australia, South America, and everywhere else, as long as we can. Thanks for reading. In grind we crust, in love we rot. Cheers.
https://cloudrat.bandcamp.com/
The crusty, punk-driven Minneapolis black metal band is an emotional torrent of rage and respite.
https://gileadmedia.bandcamp.com/album/untitled-2015
are a Sludge/Doom Metal from United Kingdom
http://moloch.bandcamp.com/
also FT. Local support from
COGNIZANT
STEEL BEARING HAND
WILDSPEAKER
All Ages