Location
United Way of Denton County
(map)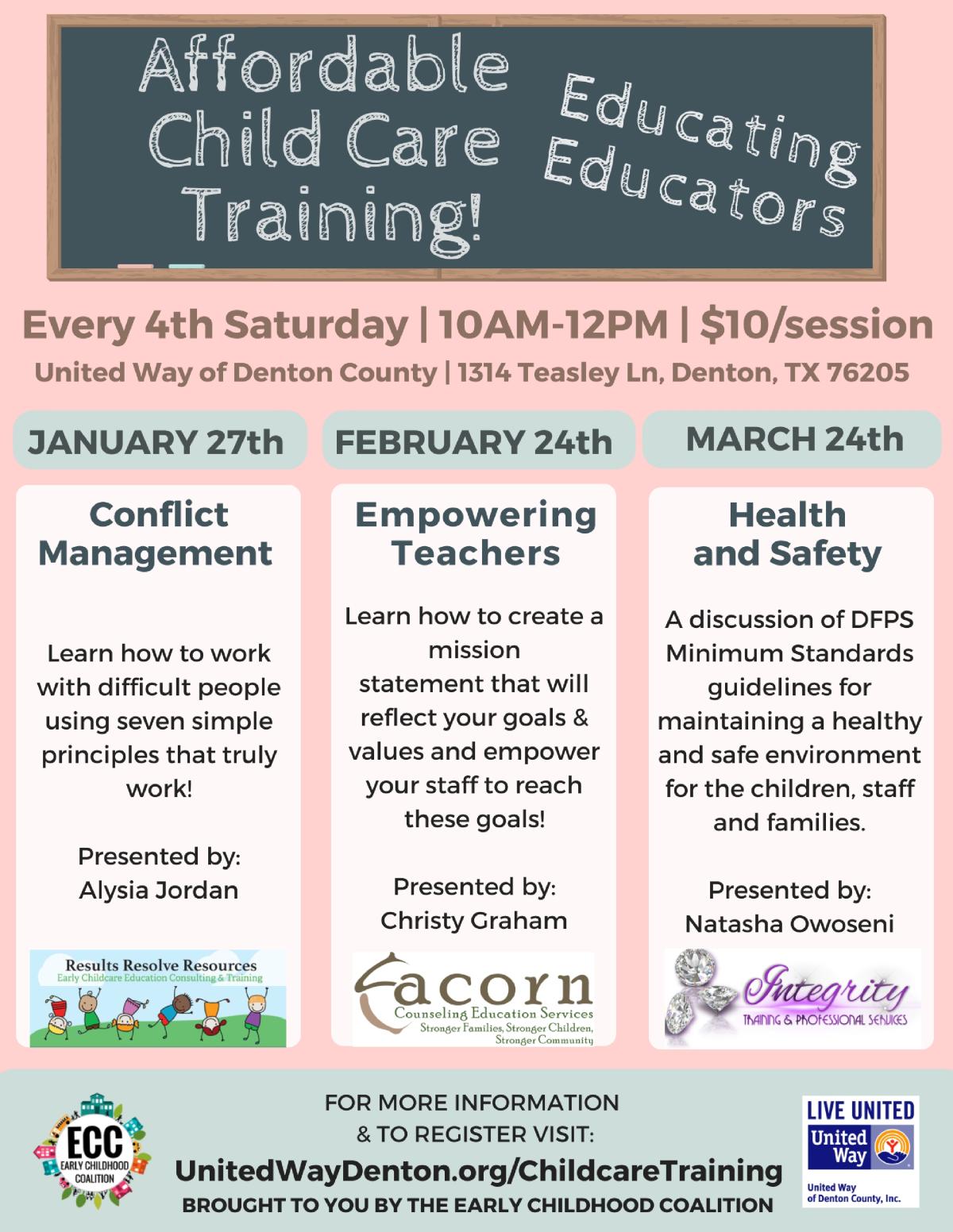 Child care directors, administrators, and workers!
Please join the Early Childhood Coalition for March's Educating Educators: Affordable Child Care Training session about Health and Safety presented by Natasha Owoseni of Integrity Training and Professional Services. This session will cover DFPS Minimum Standards guidelines for maintainging a healthy and safe environment for the children, staff, and families at your facility.
Educating Educators is a workgroup from the Early Childhood Coalition that is dedicated to providing affordable, quality continuing education sessions to the Denton County community.
Starting in January 2018, Educating Educators will hold monthly trainings on the fourth Saturday of each month from 10:00am to 12:00pm at the United Way of Denton County office located at 1314 Teasley Lane, Denton, TX 76205.
Cost to attend is $10 per person for each session. If you would like to register and pay for 3 sessions in advance, you will receive the fourth session free of charge. Please email Alicia at alicia@unitedwaydenton.org for more details.
Our first sessions will focus specificly on child care directors and administrators, but everyone is welcome to attend!
2018 Session Schedule:
Saturday, January 27th - Conflict Management presented by Alysia Jordan
Saturday, February 24th - Empowering Teachers presented by Christy Graham, Acorn Counseling Education Services
Saturday, March 24th - Health and Safety presented by Natasha Owoseni, Integrity Training & Professional Services
Have a subject you would like to see on the calendar? We love feedback! Email your suggestion to Alicia at alicia@unitedwaydenton.org.
The mission of the Early Childhood Coalition; Serving the North Texas Region is to engage and empower parents, families, professionals, and communities to provide enriched environments for all children birth – 8 years through: Advocacy; Resources; and Comprehensive Services.
All Ages