Location
Deep Ellum Brewing Company
(map)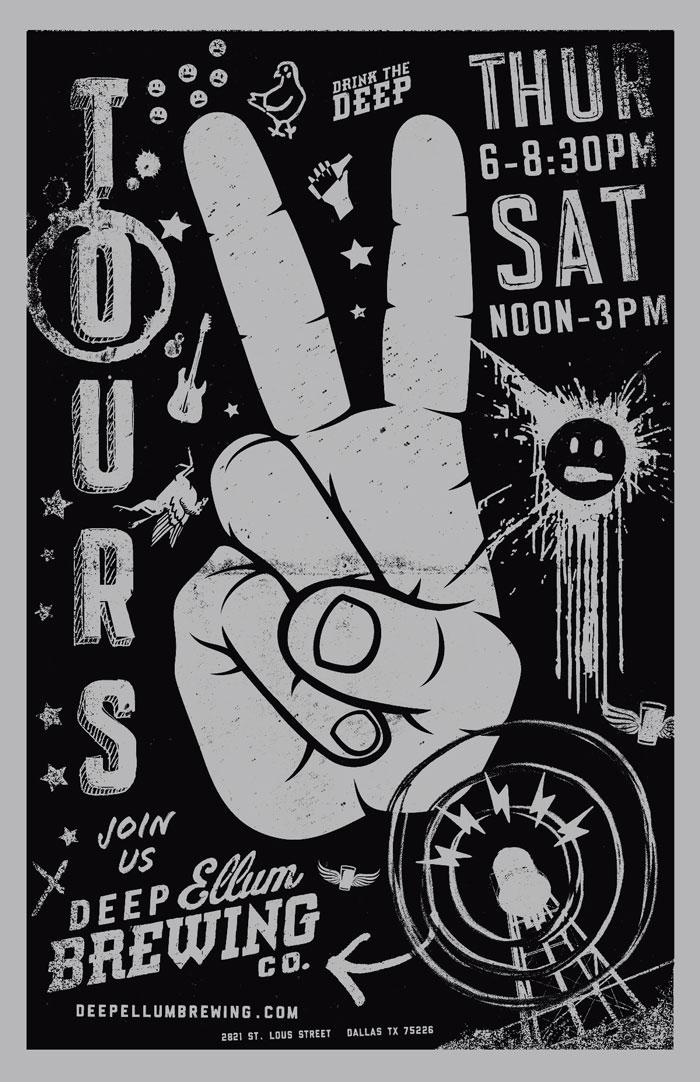 **PLEASE PRINT OUT YOUR RECIEPT AS YOUR VOUCHER TO ATTEND THE TOUR**
Deep Ellum Brewing Company proudly offers weekly tasting/tours at the brewery every SATURDAY from NOON to 3PM.
* $15 cash or credit at the door or $12 online through Prekindle.
* 1 DEBC logo glass (pint or snifter), 3 beer samples provided
* Live music
* Food trucks (sold seperately)

Every week, DEBC offers two chances to visit the brewery for an open house and tastings of our freshest craft brews right from the brew house. Gates open at 12pm on Saturdays (last call at 2:30pm and bar closes at 2:45pm), doors close at 3:00pm. The whole brewery open-house is come-and-go as you please, but we encourage people that want the tour to be inside by around 1:30pm as an onsite brewer will talk about the brewing process on the brew deck.

ADDRESS & PARKING - 2823 St Louis St, Dallas TX 75226 at the corner of Malcom X and St. Louis on the south side of Deep Ellum. Enter through the gate on the East side for tours. Parking is available on the West side of the brewery in the fenced in parking lot.

FAQs

Other tours/special events - there may be special events/tours from time to time, but the only time we're always open to the public is Saturday noon to 3pm and Thursdays 6pm – 8:30pm. In Texas, breweries are not allowed to have a tap room and sell beer on-premise. Hopefully, Open the Taps will get that changed eventually.
Kids & Dogs - Not to be confused as one...They are both welcome just so long they have a leash on them and are with parents or legal guardians. We support little brewers! Dogs are not allowed in the brewery, only beer garden. Please pack a baggie.
Growlers - under Texas state law, we cannot sell growler fills on-site. Craft & Growler in Deep Ellum, Whole Foods (Lakewood, Park Ln and Highland Park locations) and The World Company Bottle Shop carries DEBC brews and sells Growlers.

Photography - we invite you to take as many pictures as you'd like and tag us in Social Media – we believe in sharing the fun!

Volunteers - we have a volunteer force that assists in making the brewery ready and running booths each week. If you'd like to join the volunteer ranks, please contact us at events@deepellumbrewing.com

Sales - if you are a bar/restaurant owner interested in having DEBC beer on tap, please contact us at orders@deepellumbrewing.com or call us and speak to a real life person at (214) 888 - 3322.
·Website: http://www.deepellumbrewing.com

·Blog: http://www.deepellumbrewing.com/blog

·Facebook: http://www.facebook.com/deepellumbrewing

·Twitter: http://www.twitter.com/deepellumbrewco

·Prekindle (tour tickets):

·Untappd ("check in" to a beer): http://www.untappd.com
21 & up