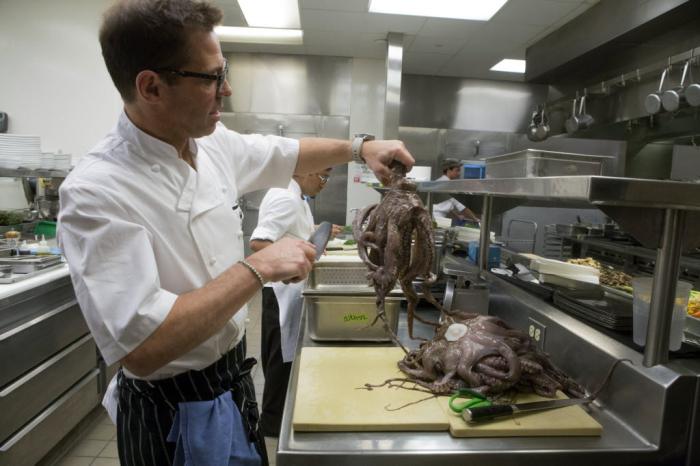 WARNING!
NOT FOR THE FAINT OF HEART
Chef John Tesar Announces Launch of Secret Spoon Seafood Pop-up Dinners Tweet it: I want to 'Spoon' with @ChefJohnTesar" #TesarIsBack #DallasEats DALLAS (Oct. 21, 2016) - On the heels of season 14's "Top Chef" cast announcement, Chef John Tesar announces a new project that will see the celebrated chef revive some of his favorite and most popular Spoon Bar & Restaurant seafood dishes at secret locations throughout Dallas. The intimate dinners will be limited to 16 guests per night, with location and other details revealed the day prior to each event. The coveted dining experiences will take place on Oct. 28, Nov. 9, Nov. 14 and on Nov. 17 for a special John Tesar birthday dinner. Additional dinners will be announced throughout the holiday season. Each dinner is priced at $135 per person, gratuity not included. "Seafood has always been one of my culinary passions, and I'm truly excited to offer these events as an opportunity to cook my guests some of their favorite seafood dishes, as well as mine, from Spoon," says Tesar. Spoon Bar & Kitchen, best known for offering high-quality, responsibly sourced seafood, closed its doors in 2014. Spoon received recognition in Condé Nast Traveler's "Best New Restaurants in the World," Bon Appetit Magazine's "The Best New Restaurants of America in 2013" and Esquire magazine's "The Best New Restaurants of 2013." About Chef John Tesar A three-time James Beard "Best Southwest Chef" semifinalist and "Top Chef" contestant, Chef and restaurateur John Tesar is renown for his daring and bold American cuisine prepared with classic European techniques. His innovative culinary perspective and no-nonsense personality have garnered tremendous acclaim throughout his 20+ years in the restaurant industry. As a winner of the inaugural season of Food Network's "Extreme Chef," Tesar is currently wowing diners with his popular steakhouse Knife at The Highland Dallas. He is also working on his first book "Knife: Modern Steak and All American Meats," to be published in spring 2017. A television show is also in development.
Follow John on Twitter at @ChefJohnTesar
and facebook.com/chefjohntesar.
"If you got a problem Ben will solve it!" - Vanilla Ice
All Ages