Time
| | |
| --- | --- |
| Doors | 4:00pm |
| Showtime | 5:00pm |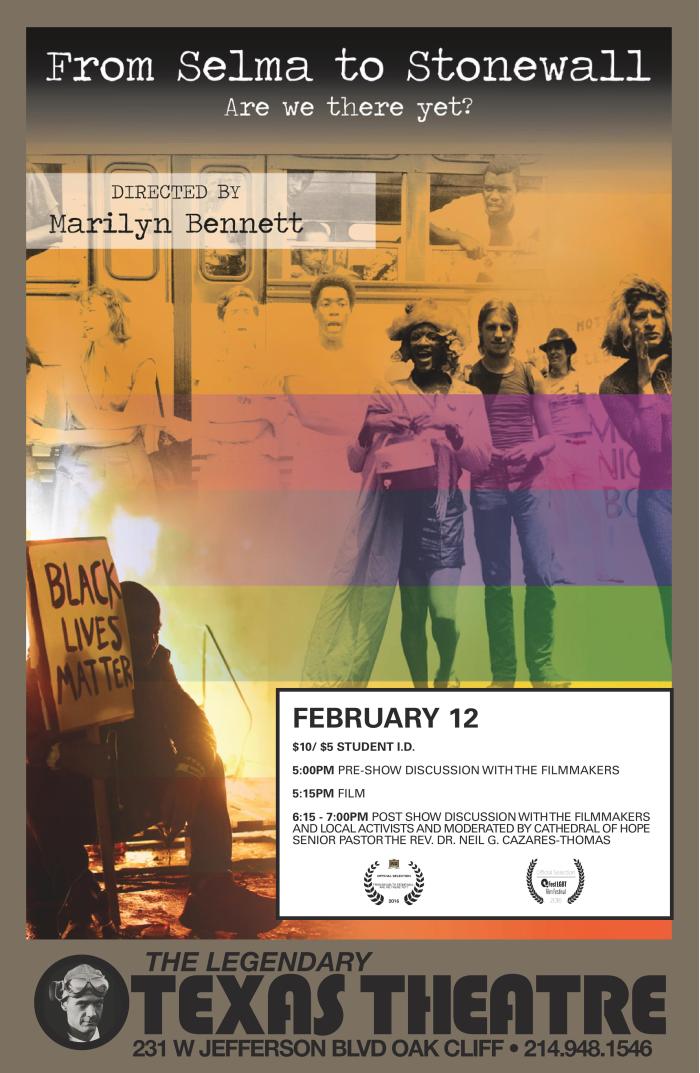 From Selma to Stonewall grabs the audience's attention from the very beginning and never lets go! The film explores the civil rights and LGBTQ equality movements through the journey of two unlikely friends; Rev. Gil Caldwell, a black, heterosexual, retired preacher/civil rights leader and Marilyn Bennett, a white, lesbian activist/author.
This powerful film begins with the civil rights movement in Selma and follows the modern LGBT rights movement galvanized by the Stonewall riots. It then delves into some of today's most explosive subjects: racil injustice, police brutality, transgender discrimination, LGBTQ homelessness, and where these issues intersect.
Come Early!
4:00pm Doors (and bar) open.
5:00pm Pre-show discussion begins inside the theater with the filmmakers.
5:15 - 6:15pm The film plays.
Stay Late!
6:15 - 7:00 Post show discussion in the theater.
Moderated by the Rev. Dr. Neil Cazares-Thomas (Senior Paster at Cathedral of Hope Dallas)
Marilyn Bennett (Director)
Gil Caldwell (Producer)
C.d. Kirven (Dallas based activist featured in the film)
Oliver Blumer (Dallas based trans activist)
All Ages