Location
Deep Ellum Brewing Company
(map)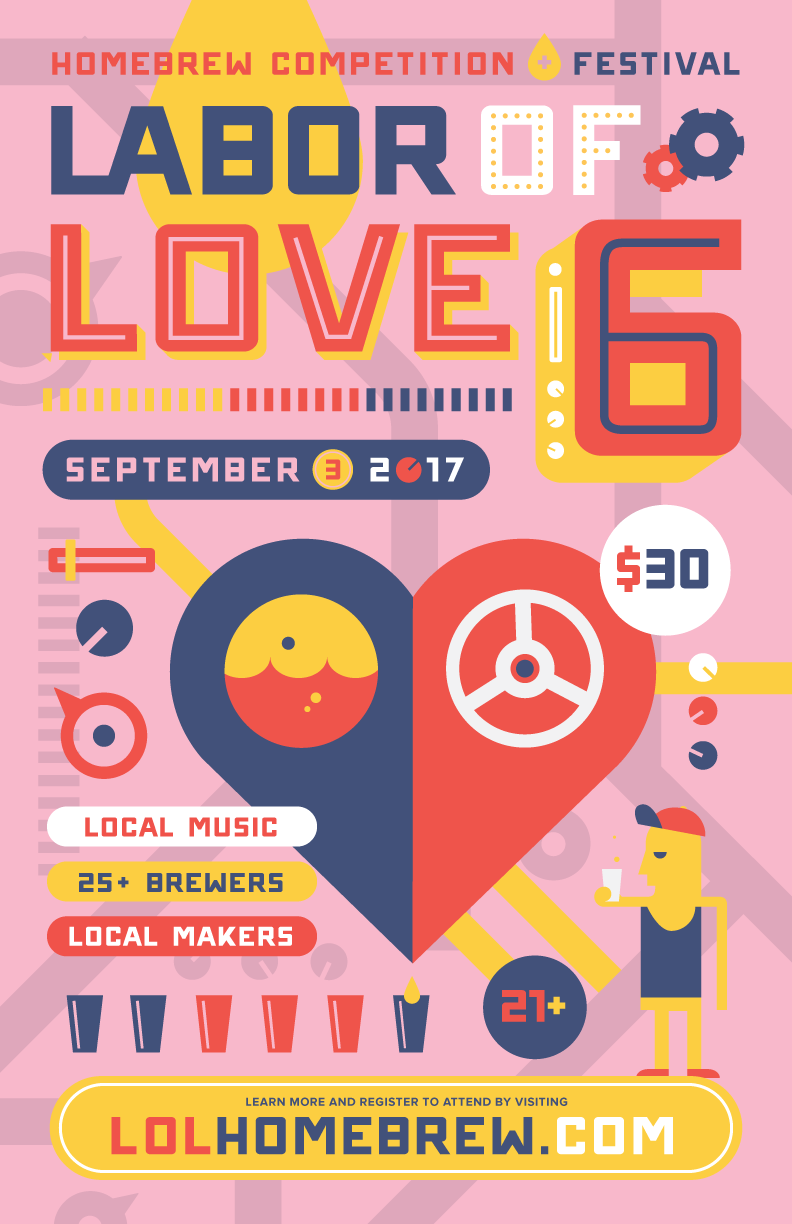 Now in its 6th year, Labor of Love (LOL) returns with more festivities, home brewers, local vendors, and of course, beer!
For $30, you'll receive a LOL membership which grants you entrance to the homebrew competition & festival on Sunday, September 3rd. Only pre-registered members are eligible to attend due the unique state laws that govern home brewing, so be sure to purchase your membership online before the event.
When purchasing your membership, please select your affiliated (or favorite) homebrew team, as TABC requires attendees "join" a competing team to sample the available homebrews.
Labor of Love Festival Membership Includes:
Homebrew Teams Pouring their Latest and Greatest
5 oz. Branded Glass and Unlimited Homebrew Samples
3 DEBC beers of your choice
Local Live Music
Performances by:
Atlantis Aquarius
Different Strokes
Cody Jasper
Homebrew Teams:
2nd Hand Cervecería
3 Ducks Brewers
Cap and Hare Homebrew Club
Concho Homebrew Collective
Country Brook Brewing Club
Dallas Homebrew Collective
Brewz N the Hood
Cultured Brewing Company
Double LB Brewing
Driveway Brewing
GingerBeard Brewing
Half-Barrel Brewhouse
Knights of the Brown Bottle
Knowles Brothers Craft Brewing
Lola Bear Brewing
Lucky Hat Brewing & Engineering Collective
Mox Nix Brewery
No Crap on Tap
North Texas Homebrewers Association
Old Bucket Brewing
Other Earth Brewery
R2B2 Brewing
Steam Theory Brewing Company
Stone Dam Brewing Company
Strange Union
Sucka MC Brewery
Sutton & Son's
Westward Eight
Yenrab Brewing
Vendors and Artists:
Haus of Growlers
Beard Supply
VC Dry Goods
Upper Paw
Homebrew Headquarters
Index Skate Shop
India Hearne (Artist)
Brent Ozaeta (Artist)
Hari Mari Flip Flops
Topo Chico
Steel City Pops
Sold Separately:
Food Trucks: SoCal Tacos - Aussie Meat Pie Co - Guava Tree
FAQ:
Must be at least 21 yrs old to attend and sample.
Kids (up to 17 yrs) are welcome. 18-20 yrs will not be admitted....you know why.
Designated drivers and nondrinkers do not need to purchase a membership / ticket.
Homebrew memberships are valid through July 1st, 2018.
This event is dog friendly.
21 & up