Wade Bowen
Wade Bowen, Brian Lynn Jones & The Misfit Cowboys
Date
Saturday
July 10, 2021
Location
Southern Junction Royse City
(map)
$20.00 to $120.00
Share
A Texas-born country singer/songwriter influenced by the outlaw country and neo-traditionalist stars of the 1970s and '80s, Wade Bowen emerged in the early 2000s with a Texas country/red dirt style that eventually began to incorporate elements of contemporary country, gospel, and pop/rock. A regional fixture in the early part of his career, Bowen broke into the mainstream with the release of his third LP, 2008's If We Ever Make It Home. His move to Sony imprint BNA Records in 2010 earned him an even bigger audience, leading to acclaimed outings like The Given (2012) and the Randy Rogers duet LP Hold My Beer Vol. 1 (2015), the latter of which elicited a 2020 sequel.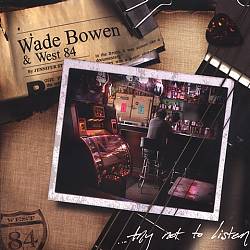 Born and raised in Waco, Texas, singer/songwriter Wade Bowen started his musical career in the band West 84 with longtime friend Matt Miller. In 2001, after flirting with the idea of life outside of the music business (he graduated from Texas Tech with a public relations degree), Bowen decided to head out on his own, self-releasing his 2002 debut Try Not to Listen and playing up to 250 gigs a year. The hard work eventually paid off as the title track climbed into the Top Ten on the Texas music chart, and the rising star began planning his follow-up. Live at the Blue Light and Lost Hotel arrived in 2006; both were released on the Sustain label and earned him an audience outside of Texas. Collaborations with Pat Green, Ray Wylie Hubbard, Radney Foster, Randy Rogers, Brandon Rhyder, Bleu Edmondson, and brother-in-law Cody Canada of Cross Canadian Ragweed followed, with a new album, If We Ever Make It Home, arriving in 2008. The album wound up peaking at number 29 on Billboard's Country albums charts. Before he delivered another studio set, he released Live at Billy Bob's Texas in 2010.
Bowen signed to the Sony-distributed BNA Records for 2012's The Given, which went to number nine on the country album charts; its single "Saturday Night" topped out at 39. Not long after The Given's release, though, BNA restructured and Bowen was once again independent. He released an eponymous album in 2014, and commercially it performed just as well as its major-supported predecessor. One year later, he had his greatest success with Hold My Beer, Vol. 1, a duet album with Randy Rogers; it went all the way to number four. The next year, he released the country gospel-themed Then Sings My Soul: Songs for My Mother on his Bowen Sounds label. Another collaboration with Rogers, Watch This, arrived months later. In early 2018, Bowen issued the well-received Solid Ground, which climbed to 27 on the Billboard country charts, and in 2020 he and Randy Rogers issued a sequel to their acclaimed duet LP, appropriately titled Hold My Beer, Vol.2.
Event by
Age Limit
18 & up