HOW IT WORKS
With Prekindle, you can get started in minutes and have tickets on sale for your event instantly. Then, follow these easy steps for a successful event:
1. Plan
Our online tools for event creation are easy and fast. Manage your calendar, customize your look, tweak capacities and pricings, and set up on-sales all from the intuitive Prekindle Dashboard.
2. Promote
Track clicks, impressions, and conversion for all of your promotions and campaigns. Syndicate instantly to major event discovery sites, including Google, Songkick, Spotify, Bandsintown, Eventful and Facebook.
3. Perform
Real-time counts and analytics, simplified guest list management with delegation, mobile scanning and entry apps, and intuitive box office software all keep you focused and your event running smoothly.
4. Payday
Qualified clients get paid faster with Prekindle than with any other service. Direct deposit, PayPal, check, and your own merchant account are all standard options. Our small fee is usually paid by the attendee.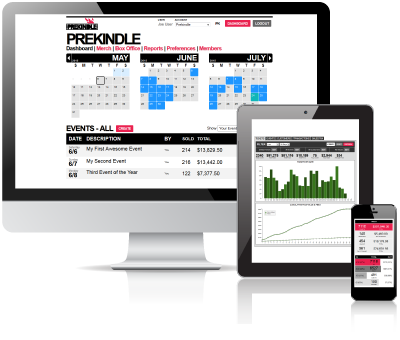 FREE TO JOIN
NO LOCK-IN CONTRACTS
Sign up to have your first event on sale in minutes. Come see how easy it is to get the same great deal without the lock-in term.
TRY IT NOW
SIMPLE PRICING - QUICK PAYMENTS
Fees are paid by your attendees, so you pay nothing.
Prekindle Service Fee
2% + $0.99
per ticket sold
Free tickets are free on Prekindle
Full payout within days of event
Add your own rebate
Non-profit discount available
If you use our credit card processing
Prekindle's Payment Processing
3.00%
of ticket price
Free tickets are free on Prekindle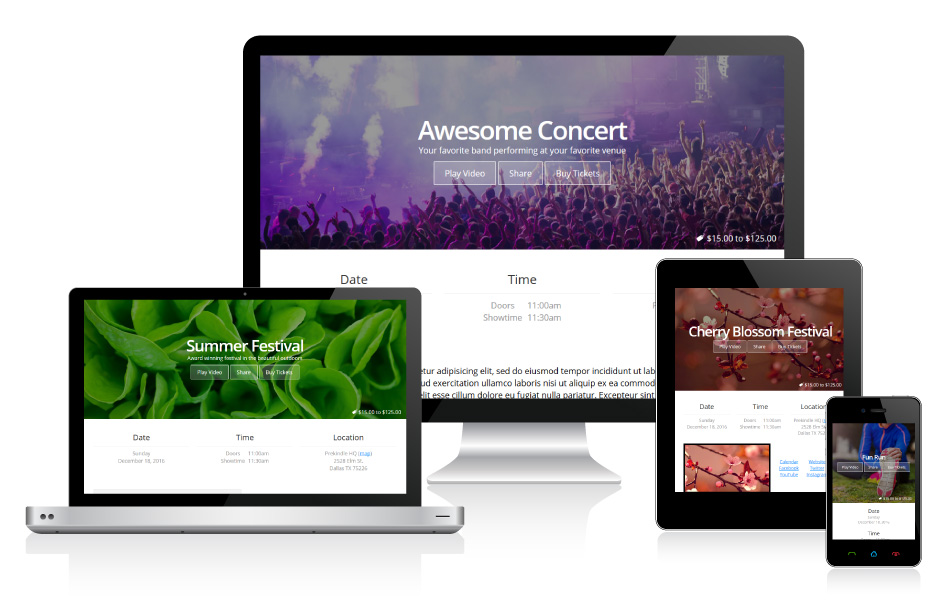 Perfect for any type of event
(click for live demo)
---
BEAUTIFUL

EVENT PAGES
Showcase your content with eye-catching, responsive pages that you can be proud of.
Automatically awesome on mobile and any device
Customize with your own content
Choose stunning stock images
Increase conversions with showcased video
Drive shares on social media
BETTER

EMAIL MARKETING
Power your weekly newsletter and dedicated blasts with an email tool that is designed for events and integrated with your ticketing.
Spend minutes, not hours, building the perfect email
Designed for events with nothing to get in your way
Automatic conversion tracking
Switch from your current email marketing platform and save
Start at $40/month & 40,000 emails
Each additional email costs only $.001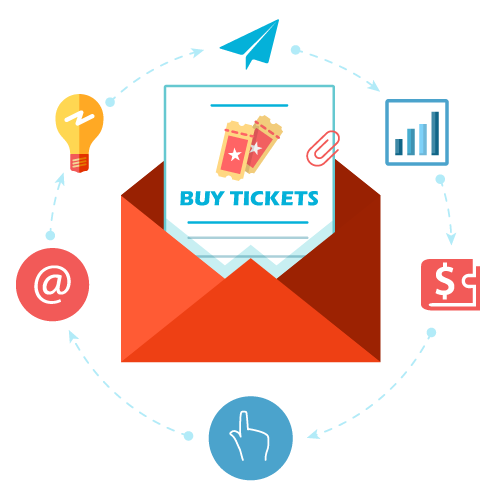 Planning a Big Event? Plan on Prekindle.
If you are planning an especially large or intricate event, our experienced event specialists are standing by to help get your ticketing dialed in. Call now 1-888-454-4353
WHAT PEOPLE SAY ABOUT US
"From boutique events to large festivals, Prekindle has been my ticketing company for well over a thousand events. They have a robust, user friendly platform and their service is excellent. I would recommend them to anyone considering a ticketed event."
Edwin Cabaniss - Venue Owner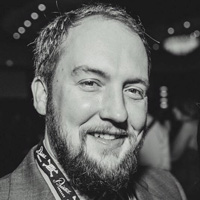 "Prekindle is a true partner for us. They are not only incredibly responsive, but always open to innovation and dialogue to continually assist us in selling more event tickets. Many ticketing platforms have tried to entice us, but Prekindle enables us to make the absolute most amount of earnings over time. That sustainability is a lifeblood for our organization and has fueled us for years."
Matthew Harber - Promoter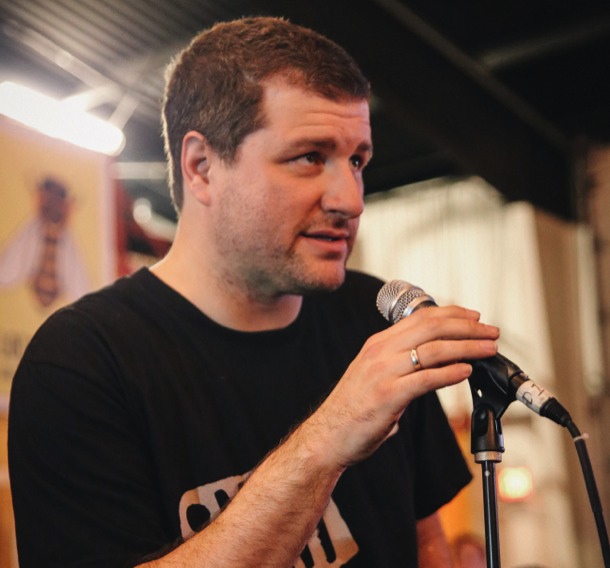 "Prekindle has handled our sales since we opened up to the public four years ago, and their combination of intuitive tools (for when we want to handle everything ourselves) and super-responsive customer service (for when we're too swamped to handle anything ourselves) has been the perfect answer for our ever-changing, ever-growing event."
Mike Laussade - Event Creator
YOU WILL LOVE THIS
We developed these essential tools and services through working thousands of events each year. Tap into our experience and take your event to the next level.
Publish Once, Sell Everywhere
Sell tickets on your website, social media, mobile, and syndicate to top event discovery sites like Google, Spotify, Songkick, BandsInTown, Eventful, and more.
Free Website & Widget
Design your own free website for your event, venue, or festival. Customize its appearance and content. Or, drop our widgets into your existing website for hands-free embedded ticketing.
Beautiful Event Pages
Design beautiful, responsive event pages with our easy-to-use tools. Proudly display your own content, or choose from stunning stock images. Place your video front and center. Automatically awesome on mobile and any device!
Flexible Payment Processing
Process payments online securely and easily, with no merchant account needed. Or, have funds flow directly to you with Stripe or Authorize.net
Guest List Management
Manage guest lists from any device, anywhere, any time. Send digital tickets, add to will call, make entry notes. Also delegate control of any list to a band, sponsor, presenter, etc.
End-to-End Box Office & Entry
Online and offline entry scanning, walk-up sales, will call, on-site ticket printing, real time monitoring of day-of-show metrics, capacity tracking, and everything you need for the day of the event.
Reserved Seating
Create simple & complex seatmaps right on our dashboard. Setup your theater, dinner events, concerts & more with our easy to use tools. Configure your pricing options with unlimited flexibility.
Team Access & Permissions
Your team members can all join your account, with individual roles & permissions.
Reports & Customer Data
We collect the data, but it's all yours when you need it. Tap into customer maps, sales by zip code, top customers, monthly/daily/hourly sales per event, top events, conversion rate, avg ticket price, comparison graphs, promotion tracking, and hundreds of other useful data points.
Forms & Registration
Create simple forms to be filled out along with your purchases to enable data collection. Provide sponsors with the data they need, fulfill complex event & conference registration, or simply learn more about your customers.
Customer Support
We handle your customer support phone calls and emails, so you can focus on your event. Our in-house customer support team are passionate about making sure your event attendees get the best experience possible and get their questions answered promptly.
Client Care
Our client support team works with thousands of events each year, and can leverage their deep expertise to answer your questions and help set your event up for success. Available, at your service, and awesome!
---
GOT BIG PLANS?
Does your event have unique and challenging needs? We love these!
Call now to connect to experience:
1-888-454-4353
Venues
We love live music venues, comedy clubs, galleries, and breweries. This is where we got our start and where our service shines. Discover the simplicity, reliability, and additional profit we can bring into your business!
Festivals
Honed through service with some of the most successful new and up-and-coming festivals around, our suite of festival tools and services is an industry leader for reporting, accounting, speeding up entry and shortening lines.
Special Events
We handle special events, annual and occasional events of all types. From conferences and meetups, to charity events and tours, to foodie fests and fashion galas, Prekindle treats your guests to an effortless and classy purchase and arrival experience.
Beer & Music Festival

Taco Festival

Brewery Tours

Music Venue

Food, Wine, Spirits

Film Festival

Comedy Nightclubs

Brewery Events

Music Festival
---
BOX OFFICE & SCANNING
Print-and-mail, print-at-home, and will-call delivery are always available. Entry systems can be as simple as a printed will-call list, or range from online will-call, to our bullet-proof iOS scanning app (with offline scanning), or ruggedized laser scanning hardware depending on your needs.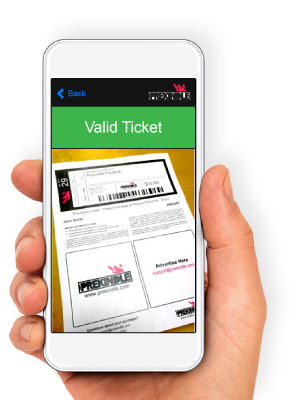 ---
METRICS & REPORTING
We collect the data, but it's all yours when you need it.
Compare this year to last year, or any range.
Overlay and compare current & past events
Determine your top customers
Map your customers geographically
Sales by zipcode
Monitor detailed transactional logs
Export data
---
TIME TO GET STARTED
Sign up now and see how easy it is to plan and promote your event, stay on top of day-of-event details, and get paid quickly!